To
My Circle Of Life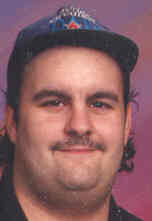 Thunderbird
January 1999

About Me
I am a 24 year old male.
I was born and raised in Washington State.
I have two older brothers and one younger sister.
I have been married for two years
And I have a 2 year old daughter.
I work as a cashier at a local gas station.
I have a second job on-call as a karaoke jockey.
When I am not working, I can usually be found
Sleeping, chatting, or doing automotive or electronic repair.